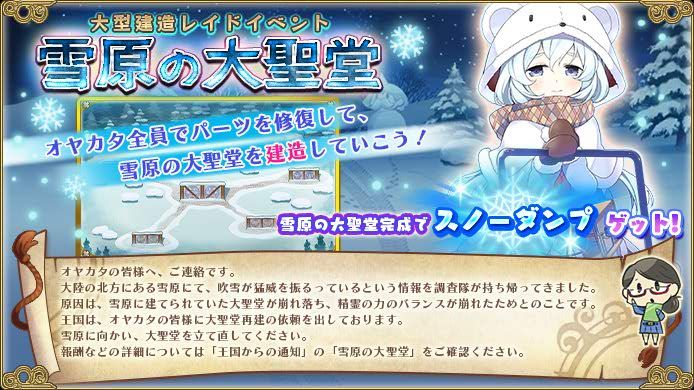 Event Summary
Edit
| | |
| --- | --- |
| Name | Snowfield Cathedral (雪原の大神殿) |
| Type | Large Construction Raid Event (大型建造レイドイベント) |
| Period | Dec 03, 2015 (Thur) 18:00 until Dec 28, 2015 (Mon) 14:10 JST |
Stage Name
Area Name
Construction Target
Info
Skill Potency
Drop
Treasure Tool (Ring)
Work Material
Vast Snowfield
Fire Sanctuary
Fire Core Outer Wall
Normal

◎ Production Artisan
◎ Fast Work
○ Foundation Artisan
△ Storage Artisan

高速(神速)
High-Speed

火精霊
Salamander

Candy Nail
Water Sanctuary
Water Core Outer Wall
Harder

○ Any skill
(Foundation Artisan recommended)

生産(製造)
Production

火精霊

Christmas Paint
Wind Sanctuary
Wind Core Outer Wall
High evasion

☆ Support Artisan
△ Fast Work
× Other

基礎(根元)
Foundation

火精霊

Christmas Eve Crystal
Earth Sanctuary
Earth Core Outer Wall
High defense

◎ Storage Artisan
○ Production Artisan
○ Foundation Artisan
△ Fast Work

補助(助成)
Support

火精霊

Sanctified Paper
Snow Sanctuary
Snow Core Outer Wall
Has dummy targets

◎ Fast Work
○ Production Artisan
○ Foundation Artisan
△ Storage Artisan

備蓄(貯蔵)
Storage

火精霊

Fir Plate
Snowfield's Wide Area
Snowfield's Wide Area
Star Core Decoration
High evasion

☆ Support Artisan
△ Fast Work
× Other

Various

風精霊
Sylph

Santa's Gift
Bosses
Outer Walls
Great Spirit of Snow

Fire Core Outer Wall

~185,000 HP

Water Core Outer Wall

~130,000 HP

Wind Core Outer Wall

~110,000 HP

Earth Core Outer Wall

~160,000 HP

Snow Core Outer Wall

~120,000 HP
Star Core Decoration

~240,000 HP
Global Reward Edit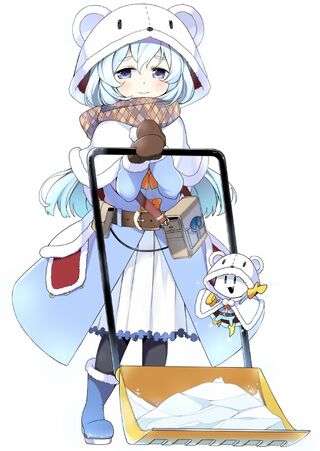 | Reward | Quantity |
| --- | --- |
| Sky Drops | 2 |
| Earth Drops | 2 |
| Sacred Mountain Drops | 2 |
| Morning Calm Drops | 2 |
| Blue Sea Drops | 2 |
| Blueprint of Truth | 5 |
| Crystal of Wisdom | 5 |
| Philosopher's Steel | 5 |
| Circuit of the Sacred Treasures | 5 |
| Primordial Oil | 5 |
| ダイヤ (Diamond) Ring | 1 |
| Temple of Snow Building Permit | 1 |
| Snow Scoop | 1 |
| Fire Orb | 1 |
| Wood Orb | 1 |
New Kenhime Edit
"Snow Scoop": Shy and reserved Kenhime that always accompanied with "Jack-kun" the Snow Spirit.
Small Snowplow: By nature, this Kenhime is a good fellow at heart. Wearing Santa Claus costume, delivering presents to children.
Recipe Development Edit
External Link
Edit
Ad blocker interference detected!
Wikia is a free-to-use site that makes money from advertising. We have a modified experience for viewers using ad blockers

Wikia is not accessible if you've made further modifications. Remove the custom ad blocker rule(s) and the page will load as expected.