Event Summary
Edit
| | |
| --- | --- |
| Name | Saint of Withering Forest (枯れた森の聖女) |
| Type | Repair Raid Event (修復レイドイベント) |
| Period | Nov 19, 2015 (Thur) 18:00 until Dec 03, 2015 (Thur) 14:10 JST |
A fertile forest, once guarded by "The Sacred Tree" made of metal. But due to the aging in recent years, lot of monsters began to appear. In order to ensure the safety of people living in the forest, a saint whose guard the forest "Swing Yarder" sent the Kenhime "Forwarder" to the Kingdom. She asked for power of the Master to restore the Sacred Tree, and the Kingdom accepted this. Masters then decided to began restoring the Sacred Tree of the forest.
Defeat the Goldenpoten! Collect the Gold Nugget! Edit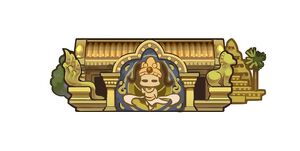 Sometimes Goldenpoten may appear along the way. If lucky, you can get "Gold Nugget" after the battle (If not, you get nothing). Collect 500 of them and trade it to Building Permit of "Gold Shrine" which can increase the Kenhime stats (+3% Skill Trigger Rate, +10% Exp. Growth Rate, +20 Pre-emptive, +35 Other Basic Stats).
There's also Nugget Forging, which allow you to craft(s) Skill (技能), Golden (金), or any Synthesis Treasure Tool with

or 

quality by forging 5 Nuggets each in the process.
In the Barren Stumps, There's a rare chance to encounter Premiumpoten, a winged Goldenpoten. Its node is symbolized by purple color with black exclamation mark. In addition, this subspecies gives more EXP than its normal counterpart (about 4000 EXP), and always drop 3 Gold Nuggets.
Stage
Area
CP
Boss
Weakness
Treasure Tool Drop
Withered Forest
Dry Grassland
3

Big Potenhazard

Earnest (忠誠)

 Ring
Canopy of Dry Leaves
5

Steel Ivy

Regeneration (再生)

Ring
Dead Branch Signpost
20

Copper Djinn

Repair (修復)

Ring
Forest of Dead Trees
50

Acid Rain

忠誠

 Ring
Withered Big Tree
150

Dragon Zombie

再生 Ring
修復 Ring
忠誠 Ring
Golden (金) Ring
Fierce (熾烈) Ring

Withered World Tree

Withered World Tree

150

再生 Ring
修復 Ring
忠誠 Ring
金 Ring
熾烈 Ring

Withered Forest -


Deepest

Barren Stumps
70
Big Poten

再生 Ring
修復 Ring
忠誠 Ring
金 Ring
Dryad (樹霊) Ring
Bosses
Sacred Trees

Big Potenhazard

~30,000 HP

Blue Sacred Tree

~25,000 HP

Steel Ivy

~63,000 HP

Green Sacred Tree

~53,000 HP

Copper Djinn

~180,000 HP

Red Sacred Tree

~140,000 HP

Acid Rain

~340,000 HP

Yellow Sacred Tree

~200,000 HP

Dragon Zombie

~500,000 HP

Purple Sacred Tree

~650,000 HP
Black Sacred Tree
Big Poten
~10,000 HP

White Sacred Tree

~75,000 HP
New Kenhime:
"Swing Yarder": Saint of the forest that withered by dragon. Always with calming, pure presence.
Forwarder: Her will to protect the forest saint can convince anyone that she's an earnest and naive Kenhime
Recipe Development Edit
External Link
Edit
Ad blocker interference detected!
Wikia is a free-to-use site that makes money from advertising. We have a modified experience for viewers using ad blockers

Wikia is not accessible if you've made further modifications. Remove the custom ad blocker rule(s) and the page will load as expected.