Improvement (改良 Kairyō) is a method to strengthen Kenhime by use and forfeit the others as an material for enhancing. Up to 5 Kenhime can be the material(s) for each Improvement.
Raise Kenhime's Strength – Vitality – Agility – Technique status.

Therefore corresponding HP, attack, defense, accuracy, evasion, and construction specs will increase as well.

Status is displayed in blue upon reaching the Improvement Threshold (at Max)

Max Threshold raised by 5 sequentially for each 5 levels (Lv1-Lv9 Max Threshold is 5, Lv10 is 10, Lv15 is 15, and so forth).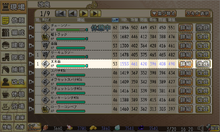 Inherit the improved rate after evolution.
There is a term of Great Success, a chance of obtaining higher outcome than the amount of actual value.

If it happen, the screen will flashing white shortly in the midst of smoke effect.
Material Value
Edit
Standard Value as following:

Drifter-type: 1
Soldier-type: 1
Cavalry-type: 2
King-type: 2
God-type: 3

Rarity is added to heighten the above values:

Light Brown +0,
Orange +1,
Pink +2,
Gold +3,
Rainbow + 4
WARNING: Don't forget to put a lock on important Kenhime to avoid mistakes in choosing material!
How to protect: Organization > Detail Button > [保護する] = Protect Button
External Links
Edit
Ad blocker interference detected!
Wikia is a free-to-use site that makes money from advertising. We have a modified experience for viewers using ad blockers

Wikia is not accessible if you've made further modifications. Remove the custom ad blocker rule(s) and the page will load as expected.