Event Summary
Edit
| | |
| --- | --- |
| Name | Decisive Battle of Demon Island! - Prologue「決戦!鬼ヶ島 序章」 |
| Type | Subjugation Event |
| Period | July 30, 2015 (Thur) 18:00 until August 20, 2015 (Thur) 14:10 JST |
Defeat the Boss "Demon Elder Dragon", Forge the Special Quality Accessories! Edit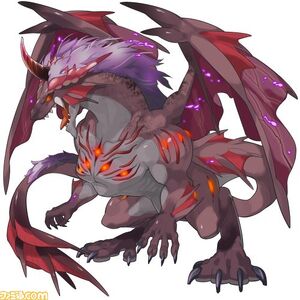 A new area is added alongside the five existing areas that appeared in the previous event, also with the new boss, "Demon Elder Dragon".
The event boss(es) has a chance to drop "Demon Horn Shard" (鬼角のかけら), a forging material used to forge the special quality accessories such as "Demon Elder Dragon Bracelet" or "Gold Bracelet".
Normal enemies & bosses other than "Demon Elder Dragon" possess attributes. It's safe when wearing the accessories with their weakness attributes.
"Demon Elder Dragon", has lower vitality than Dragon Nest's "Ancient Dragon", but still force to be reckoned with, sometimes its "Defense Wall" skill will shrug off even a crucial blow.
Event-exclusive accessories "Old Dragon Seal" (古竜封じ) raise the final damage to "Demon Elder Dragon" (and "Ancient Dragon"), best equipped to Kenhime with "Multipe Attack" skill to counter its "Defense Wall".
Bosses are powerful. It takes repetitive Survey or even summon help by Transfer Ball to take them down.
New 2nd Evolution:
Recipe Development on "Decisive Battle of Demon Island! - Prologue" Event:
Other Event
Edit
| | |
| --- | --- |
| Name | Summer Vacation「夏休み」 |
| Type | Petit Event |
| Period | August 01, 2015 (Sat) 00:00 until August 31, 2015 (Mon) 23:59 JST |
Very Popular! Enjoy the Petit Event Held in the Summer!! Edit
Like Xmas and Valentine's Day, a long-time Petit Event was very popular to the Masters!!
For the entire month, Main Screen and some lines is converted into Summer version!!
Through intense heat wave in this season, Have fun with Kenhime and refreshing summer sea!
See also: Decisive Battle of Demon Island! - Epilogue
External Link
Edit
Ad blocker interference detected!
Wikia is a free-to-use site that makes money from advertising. We have a modified experience for viewers using ad blockers

Wikia is not accessible if you've made further modifications. Remove the custom ad blocker rule(s) and the page will load as expected.