Event Summary
Edit
| | |
| --- | --- |
| Name | Decisive Battle of Demon Island! - Epilogue「決戦!鬼ヶ島 終章」 |
| Type | Subjugation Event |
| Period | August 06, 2015 (Thur) 18:00 until August 20, 2015 (Thur) 14:10 JST |
Hit Or Miss! Boss Dropping a "??? Ring"! Edit
Decisive Battle of Demon Island! long-awaited Epilogue in is finally appeared! Following the Prologue, let's defeat the Raid Boss of each area by using the power of treasure tool! Boss may dropping "??? Ring"(???の指輪) when defeated. Hit or miss, is this really the identity of the treasure tool!? Found out the answer by logging in after the start of the EX Stage!
Starting August 13! The EX Stage! Edit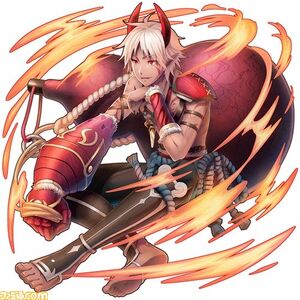 After regular maintenance on August 13, EX Stage of Decisive Battle of Demon Island! - Epilogue will be added. If you defeat "Shuten-dōji", there's chance that it'll drop a variety of powerful items.
Unlike any other stage in Prologue and Epilogue, boss HP will be reset each time encountered, so it should be taken down as soon as possible once per battle.
New builders:
Recipe Development Edit
See also: Decisive Battle of Demon Island! - Prologue
External Link
Edit
Ad blocker interference detected!
Wikia is a free-to-use site that makes money from advertising. We have a modified experience for viewers using ad blockers

Wikia is not accessible if you've made further modifications. Remove the custom ad blocker rule(s) and the page will load as expected.